Mold Removal Services in Beaumont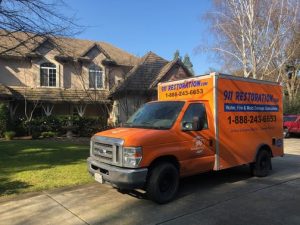 For Beaumont commercial and residential property owners, flooding from either a man made source such as a pipe burst, flooded basement, or ceiling leak, or from a natural disaster such as a severe storm can have devastating consequences. Flood water will not only stain your furniture and carpeting, but it will also warp your floorboards and weaken the structural integrity of your home or retail building. Water can creep into walls and under carpeting and lead to an entirely new problem as well – mold.
When found in its natural environment, mold is actually very helpful. It helps to break down organic matter such as dead leaves and trees. But when mold and mildew invite themselves into your property, that leads to a very different scenario. Mold will eat away at any surface it grows upon, destroying your walls and your property's foundation. If you suspect that you have a mold problem, it is imperative that you call in the experts right away. Thankfully, 911 Restoration of Riverside are your hometown heroes when it comes to water damage restoration and mold removal services.
With a 45-minute response time and 24/7/365 availability, we will be at your doorstep within the hour to promptly get to work on your mold remediation needs.
How to Prevent Mold from Growing Inside of Your Building
Residential and commercial property owners in Beaumont need to be proactive when it comes to protecting their buildings from a mold outbreak. There are a number of things you can do to prevent mold from growing inside of your building, including:
Keeping Track of Humidity Levels – Mold loves moisture. Without it, it will not grow. Keep your building dry by keeping an eye on its humidity levels.
Clean and Repair Your Gutters – A mold infestation may be as simple as a roof that is leaking because of clogged gutters. Ensure that you maintain clean gutters that are free from sticks, leaves, and other debris so that water can properly drain off of your building.
Dry Wet Areas Immediately – As we stated before, mold grows when there is moisture present. So after a severe rainstorms, a pipe burst, or a ceiling leak, you should thoroughly dry the area within 24 to 48 hours to prevent mold from growing.
Use Mold-Resistant Products throughout Your Home – If you plan on building a new house, utilize mold-resistant products throughout, such as mold-resistant drywall or mold inhibitors for paints. Mold-resistant drywall is paperless, making its surface incredibly resistant to water.
Prevent Moisture with the Correct Ventilation – Day-to-day domestic routines such as showering or cooking could encourage the growth of mold within your building. Always correctly vent applications that create moisture, such as clothes dryers and stoves, to the outside of your property.
Even if you do take these precautions, you cannot control some types of flooding, which could result in a mold infestation. When mold is growing within your walls, contact 911 Restoration of Riverside's team of experts straight away.
Sympathetic and Supportive Mold Remediation Services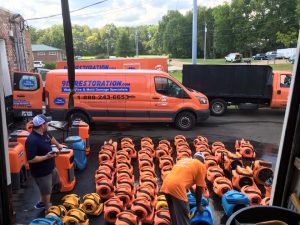 Having a flood happen within your building or being the victim of a mold infestation can be troubling. 911 Restoration understands your stress and wants to not only offer you with speedy mold decontamination services, but supportive customer service too.
Our innovative 'fresh start' approach enables us to put you and your needs completely at the center of our attention. No matter how large or small the mold inspection job might be, we will always offer you service with a smile. Additionally, we will help you to see the silver lining in this bleak situation. 911 Restoration of Riverside will thoroughly clean your residential or commercial building so that it is clean, safe, and comfy once again. This will allow you to enter a new chapter of your life with complete confidence.
If your home or retail building is in need of mold removal services, call the experts at 911 Restoration of Riverside right away. We will be at your door within one hour of your initial call to get to work straight away.