Water Damage in Riverside
Weather Alert: If you are experiencing flood damage or severe weather, call us today for emergency assistance!
911 Restoration of Riverside
If you reside or operate in Riverside County, you'd know how challenging summers and winters can be because of rising and falling temperatures. The summer season in Riverside County is hot and humid, with the temperature varying from 43 to 94°F. It is rarely below 36°F. The hot season lasts for three months (June to September). This often exposes property owners to challenges like pipe bursts and a fire breakout if they don't properly manage their plumbing and HVAC systems.
Likewise, winters are equally cold and challenging, with an average daily temperature below 72°F. Winters last between November and March. Apart from the cold season, the rainy period can also put property owners at risk of flooding, water damage, and mold contamination. The rainy period typically lasts from October to April, with an average of 2.6 inches.
As every season comes with its own set of challenges for property owners, it is advisable to have our number on your speed dial. 911 Restoration of Riverside County is your trusted partner for all your restoration needs. From water damage restoration in Riverside County to fire, smoke, or mold damage, we can assist you with them all. We have a team of IICRC certified and well-equipped professionals who can help you with all types of restoration work to your complete satisfaction.
At 911 Restoration of Riverside, we offer a Fresh Start with our comprehensive selection of property damage restoration services, including but not limited to:
Whether you're a Riverside homeowner or business owner, 911 Restoration of Riverside is your Fresh Start! We'll communicate with you throughout the entire process, help answer questions related to insurance, and restore your property to its pre-damaged condition. One of our IICRC-certified teams is dispatched within 45 minutes of your call! Contact us today, and one of our friendly representatives will assist you in finding the nearest Riverside location.
Service area map
Our water damage repair workers in Riverside are available 24/7/365 to implement comprehensive services that deal with restoring all types of disasters. Some of these services include:
Remediation of all water damage

Black water cleanup

Fungi and mold infestation decontamination

Mildew deodorization

Deodorization services

Water extraction and drying

Toilet overflow Cleaning

Mold spore testing services

Cleanup of tar and ash residue

Smoke stain cleanup and odor removal

Overall comprehensive disaster restoration
If your home is already amid a restoration situation of some sort, then don't let it escalate into more damages. So, call 911 Restoration Riverside and we will work with IICRC-certified technicians to help you with everything today!
Water Damage Restoration
Taking on the challenges of a 911 water restoration means getting to the job quickly, and will all the most advanced extraction tools for any sized job.
Water damage can strike in many different forms, from a pipe bust problem to water heater failures, and even toilet overflows, there is nothing that our team can't handle with ease.
In addition to being at the scene of a water damage event quickly, the water damage team in Riverside is also standing by around the clock to take on any project that arises no matter what the hour.
If your home is already amid a water damage situation in Riverside and you want the best in the industry to take it on for you, then contact the water damage crew with 911 Restoration Riverside today!
Mold Removal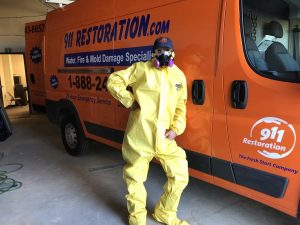 Fungus infestations and mold contamination follow close on the heels of a water damage event because all that is required for an outbreak is a constant source of water and a porous substrate with which to develop.
The mold removal Fontana CA starts by eliminating the source of water for mold growth with their restoration efforts. Then they go in-depth to set up vapor barriers and contamination containment tools to keep any airborne spores from traveling to other parts of the home and starting a new colony there.
If your lovely home or prosperous business is already dealing with a mold removal and restoration situation, then don't wait for the colony to grow any bigger before seeking help.
Sewage Backup
Solving the challenges that accompany a sewage backup situation requires not just skill and experience, but also experts who are licensed, insured, and bonded, like the sewage removal Corona CA with 911 Restoration.
Sewage backups are some of the most dangerous forms of disaster that can occur in homes and businesses. This is why the sewage backup staff in Riverside makes sure to always put the customer first when encountering these scenarios.
Sewage comes in a variety of danger levels, but all kinds should be considered hazardous and that is why our team will rush to any project site immediately so that people don't have to come into contact with this potentially deadly substance on their own.
If your home is already amid a sewage backup scenario, then don't wait another minute for it to do more damage. So, contact the sewage backup team in Riverside with 911 Restoration and let them take care of everything for you today!
Fire and Smoke Restoration
Taking on a fire and smoke damage disaster and all of the variables that come with it requires not only restoration expertise and talent, but also a high degree of professionalism to stay on top of all the latest smoke abatement techniques, the tools for doing the best work, and trained experts to provide it.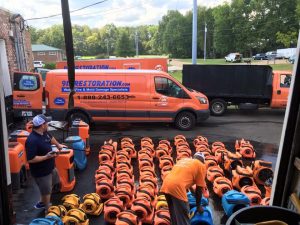 In addition to the know-how required during a fire and smoke restoration situation in Riverside, the 911 Restoration Riverside team also make sure to take care of the customer as the top priority in these trying times.
Fire and smoke damage events typically are accompanied by water damage situations as well. This happens when the fire department uses large quantities of water to put out a blaze.
This water can sit and stagnate in the home for long periods and when this happens it can mean everything from increased water damage to mold contamination too.
If your home is already amid a fire and smoke damage situation, then don't allow it to progress any further. Contact the kitchen fire damage with 911 Restoration Riverside for all the help you need today!
Disaster Restoration
Disasters that befall the homes and businesses of the Riverside area can come in a variety of forms ranging from earthquakes to tornados, extreme storms, floods, and even fire damage outbreaks; but no matter what embodiment the disaster takes, the disaster restoration team in Riverside can handle it with ease and get you back in your home or business in no time.
When taking on the challenges of a disaster scenario, the disaster restoration staff in Riverside always provides not only care to the home or business affected but also to the property owner too.
No matter what form the disaster takes, the 911 Restoration of Riverside will be there quickly.
If your home or business is already dealing with a disaster situation, then don't wait another minute to contact help. Call the disaster restoration team in Riverside now and get all the help you and your home need today!
Serving the communities of Beaumont, Bloomington, Calimesa, Canyon Lake, Colton, Corona, Eastvale, Fontana, Grand Terrace, Highland, Homeland, Loma Linda, Menifee, Mentone, Mira, Loma, Norco, Perris, Redlands, Rialto, Riverside, San Bernardino, Woodcrest, Yucaipa, Moreno Valley and surrounding area.