Water Damage Yucaipa
If a plumbing malfunction floods your home, you can depend on the water damage Yucaipa experts at 911 Restoration Riverside to repair the issue at the source the same day you contact us.
We are licensed, bonded and insured to perform all types of services on your property, such as:
Pipe bursts remediation

Washer hose bursts correction

Mold and fungus infestation cleanup

Water heater leak repair

Toilet overflow sanitization

Fire sprinkler malfunction restoration

Flooded basement water removal

Flooded crawlspace cleanup

Sanitization

Odor Control

Complete repair of all damage

Black Water Cleanup
More than anything else, time plays a crucial role in facilitating a successful home restoration job, so we stay available 24/7/365 for our customers benefit.
Our water damage Yucaipa professionals are guaranteed to be at your home within 45 minutes of receiving your emergency call, no matter what time of the day or night it may be.
Call our IICR certified water damage Yucaipa team as soon as you find unwanted moisture in your household and we will provide you with a free home inspection as soon as we arrive on the scene.
Let Our Water Damage Pros Prove Our Dedication To You
When you hire us for a job you can be absolutely certain that we will give one hundred percent of our effort to make your home look like it was never effected by any sort of water damage.
Our water damage Yucaipa staff has many years of experience under their belt, giving them both the knowledge and the skills needed to mitigate literally any water-based disaster.
We use high powered wet vacs, sump pumps, dehumidifiers and air movers to completely dry the area, ensuring that there is no moisture left to allow mold to grow or cause wood to rot.
Homeowners can rest assured that once we are at the damage site we will take control of the entire situation, allowing you to sit back and relax until we are finished.
Call our water damage Yucaipa technicians as soon as you discover invasive water flooding your home and we will be there to quickly make all repairs.
Our Floodwater Removal Crew Will Work For You
Dealing with a water disaster in your home requires many different avenues of assistance. Most importantly, you need our water damage Yucaipa agents to immediately begin water extraction and drying procedures in order to salvage the structure of your home and everything inside.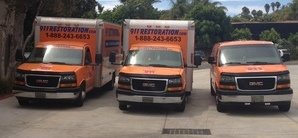 Once that is underway, the issue of payment is the main concern. To make this part as easy as possible, we make an effort to work with all insurance companies, doing whatever it takes to keep your out of pocket expenses down.
In fact, our water damage Yucaipa specialists will file your entire claim for you, doing whatever it takes to make sure you get the best financial aid possible.
Even if your insurance does not provide full coverage, you can rest assured that when you work with us you will get the most affordable prices in the industry. Call our water damage Yucaipa pros at 911 Restoration today and we will make sure  you get the fresh start you need.