Mold Removal
911 Restoration Riverside brings the trifecta of technicians that are available 24/7/365, a fast response time, and same day service to deliver homeowners a fresh start in the face of any type of water disaster.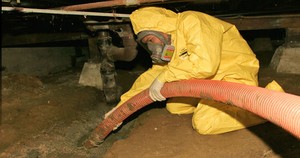 Everyone deserves a second chance, and 911 Restoration brings that better than anyone else."
Business and homeowners need to be aware of all the ways that mold can form in their property, as well as the issues that make their homes susceptible to experiencing flooding and other water issues caused by pipe bursts and ceiling leaks.
If you need help recovering from leakage or plumbing problem, you can contact the mold removal Riverside techs and we will get workers to your home as quickly as we can schedule an appointment with you.
Our mold removal Riverside pros want to be able to serve you under any circumstance, even if your emergency occurs in the middle of the night, so we keep our offices agents available 24/7/365, allowing you to call us the moment you need us. Our mold removal Riverside operation is licensed, bonded and insured to offer you services for all types of water damage and mold issues, such as:
Discovery of the source of the mold growth
Fungus and mold decontamination

Comprehensive mold and water extraction
Our reliable and trustworthy professionals have seen it all in our years of experience. From mold caused by 911 water restoration drainage to water damage disaster, your second chance starts the moment you call us. If you're in need of stability and well-rounded solutions, then you have come to the right people.
So, call our mold removal Riverside experts today and we will give you a free home inspection as soon as we arrive on your property.
Mold Prevention Measures
The leading cause of mold infestation in the nation is untreated water damage. Our mold removal Riverside team is here to lend a helping hand with disaster responses, in order to help you save cost and keep cool in a water accident.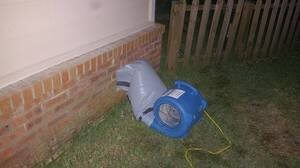 Our mold removal Riverside team is expertly trained in all the most cutting-edge mold extraction and water damage restoration techniques.
Our mold removal Riverside crew prides themelves on having the ability to use our professional-grade equipment on your home to get it looking spotless after it has been hit by a flood.
Not only are we licensed, bonded and insured to mitigate home floods, drenched carpets and leaking ceilings, but our mold removal Riverside pros know how to completely eradicate mold from the premises.
Getting all the mold spores and fungi growth cleaned from the home is the best way to ensure that your living in a safe environment. Our mold removal Riverside techs want you to be aware of some things you can do to prevent water damage from creating a mold infestation.
Become familiar with pipes. They run throughout your home under cabinets, through walls, in crawl spaces, and above rooms. Knowing where to check for leaks, and calling us if you find them, saves you time and money.
Know where the shut off valve for the water in your home is. In the event of a pipe burst, you can turn off the water. This curbs the amount of water damage, and prevents fewer mold spores from growing.
Check hoses often, and replace as need be. Appliances that hook up to water, such as washing machines, can run just fine and still be leaking water. Therefore, you can prevent big damage by just being proactive.
We take the worries off your hand, and set you up for a fresh start, guaranteed, so if you encounter any water issues or mold. Call our mold removal Riverside unit as soon you come across water in your home and you can be sure we will be there as soon as possible.
Leading Mold Removal by Supporting Homeowners
On a particular humid day, a riverside homeowner was hanging out in his air-conditioned room. Occasionally, he would catch a whiff of a pungent and overbearing smell.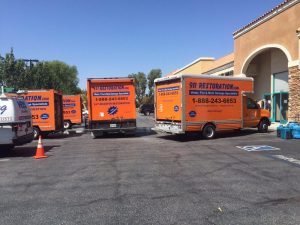 Concerned, he checked an air vent in his living space, and discovered remnants of a furry black substance. Logically, he decided to blast the space with some bleach, and he wiped it away, but the smell persisted.
With a possible mold problem in mind, he called the mold removal Riverside team at 911 Restoration. Our mold removal Riverside technicians arrived at his house within the hour, and provided him a free visual home inspection.
They noticed discoloration around his ceiling, and they knew that the mold source was coming from the same thing that caused the color changes. Using an infrared camera, our mold decontamination team was able to peer into the ceiling and discover cool blue spots.
The spots were signs that there was evaporation and humidity occurring, therefore there was trapped water between his ceiling and roof. As it turns out our team was able to identify that the water came from holes in the roof that allowed rain in earlier in the year.
We began the restoration procedure by running dryers and blowers to the ceiling in order to get the water out. After that, we create an air cycling system by using air scrubbers and an HVAC unit. This prevented mold spores from manifesting themselves to elsewhere in the home.
It was important to replace old drywall with fresh new drywall, and we painted over it with paint that inhibits microorganism from growing. The best part, due to the mold cause being pre-existing water damage, the homeowner was able to get a revamped roof, and a state of the art air conditioning system. All covered by the insurance.
If you find mold in your home, contact our mold removal Riverside experts with 911 Restoration Riverside for all the best services in the industry today!
Serving the communities of Beaumont, Calimesa, Canyon Lake, Colton, Fontana, Grand Terrace, Homeland, Loma Linda, Mentone,Moreno Valley, Redlands, Riverside, San Bernardino, Woodcrest and surrounding area.