Water Damage Restoration in San Bernardino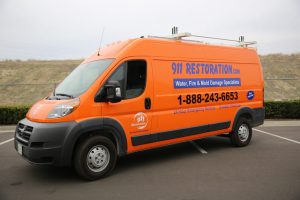 Whether you're a couple looking to settle down, buy a house, and start a family or a motivated entrepreneur seeking to open up a storefront retail business, San Bernardino is the ideal place for both. Spanning over 81 square miles, this Southern California city is paradise.
Though you may be full of joy at the prospect of owning a commercial or residential property, there are also many new responsibilities that come with property ownership. Fixing the damage that can happen from a flood is one of them. Thankfully, you don't have to be alone in your time of need. 911 Restoration of Riverside is a professional water damage restoration and mold removal services company that offers 24/7/365 availability. Whether it's day or night, or if you're located across the street or across the county, our team of experts will be at your doorstep within just 45 minutes of your initial phone call.
Benefits of Hiring Our Water Damage Restoration Specialists
Whether the water damage is the result of a pipe burst, flooded basement, ceiling leak, or natural disaster, getting to work right away on flood cleanup efforts is critical. Thankfully, 911 Restoration of Riverside has the tools and training to handle your water damage restoration woes, no matter the size or scope of the job.
There are numerous benefits to hiring our services, including:
Speedy Restoration – In the event of water damage, a flood company with a quick response is crucial for the mitigation of the water in your house or office building. Our flood damage repair professionals respond to all calls right away and have a 45-minute response time. Our same-day servicing allows you to rest easy knowing that immediate cleanup efforts are taking place.
Expert Advice – In the event of water damage restoration services happening, it can be tough for you to determine whether your wet carpet, drywall, and furniture should be tosses or can be reused. 911 Restoration can thoroughly inspect your property and provide you with professional feedback regarding your disaster cleanup issue.
 

Professional Mold Removal Services – When flooding happens, mold can grow inside of your walls or ceiling. Many types of mold are toxic and can lead to a myriad of health complications including sneezing, wheezing, chest infections, and more. 911 Restoration of Riverside not only specializes in water damage restoration, but we also are mold remediation experts as well.
Navigating Insurance Claims – As a flood damage company, we have many years of experience dealing with insurance forms and policies. We will help you deal with tricky insurance claims right from the start.
Mold Removal Services with a Smile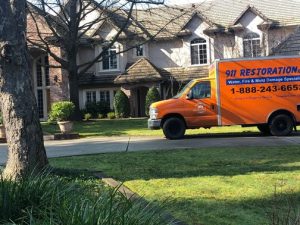 When you seek out the services of a water damage restoration team, you should look for a company that also specializes in mold decontamination. If the flood water crept into cracks or crevices of your residential or commercial property, you could be facing a mold infestation problem.
911 Restoration of Riverside are mold inspection pros. We'll offer a free visual inspection to property owners only to find the source of the mold. Then, we will go to work immediately to fix the problem.
Not only are our mold removal services swift, but they are also customer-centric. Our 'fresh start' attitude allows us to put you at the center of our attention. We understand that seeing your home or business affected by flooding is a tough issue, and we're here to lend you support and guidance throughout the entire process.
We recently worked with a local business owner who had suffered from a massive flood. She was afraid that there was mold present inside of her retail store. 911 Restoration of Riverside performed a thorough inspection and found the source of the mold. We then went to work straight away to efficiently extract all of the mold and mildew from her property. She loved our speedy services and outstanding customer support.
If your property recently suffered from flooding and you are in need of water damage restoration and mold remediation services, be sure to call 911 Restoration of Riverside right away. We'll be at your location within the hour to repair the problem!