Mold Removal in Riverside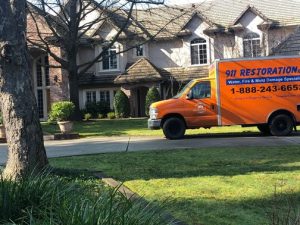 For local home or commercial property owners in Riverside, flooding within their four walls can be a huge mess. Whether the flood was man made and happened due to a ceiling leak, pipe burst, or flooded basement, or was the result of a natural disaster such as a storm, water damage can start taking its toll immediately, leaving property owners in a panic. Within hours, the flood waters will discolor carpeting, hardwood floors, and furnishings. And if left untreated, a moist environment with stagnant water can become a haven for mold to thrive in.
Thankfully, when property owners are in need of water damage restoration or mold removal services, they can turn to 911 Restoration of Riverside. Offering 24/7/365 availability and an immediate response time, our team of professionals will be at your door within just 45 minutes of your initial phone call to start mold remediation services right away.
What to Know When Hiring a Mold Removal Company in Riverside
 For home or retail building owners who find out that their property needs mold removal services, finding the right mold decontamination company can be a daunting task. They are already super stressed because of the bad news, and trying to find a professional and swift company can just add to their woes.
But finding a mold remediation company doesn't have to be difficult! Here are some tips to find the best services:
Consider the Price Points – The price of the mold inspection job will depend upon the scope of the mold infestation. Property owners should know their budget before they decide on a company to remediate the problem.
E

xperience – When it comes to mold, property owners should seek out an experienced team that is also licensed, bonded, and insured. To find out about a mold removal company's background, simply visit their webpage or research the web for customer testimonials.

Equipment – Getting rid of mold can be a dangerous task. A property owner should find a mold decontamination services company that utilizes quality equipment to safely and efficiently extract the mold.
 911 Restoration of Riverside has got local property owners covered! We fit all of the aforementioned criteria and are available day or night to offer our services promptly. When it comes to water damage restoration or mold, time is of the essence.
Local Mold Remediation Services with a Smile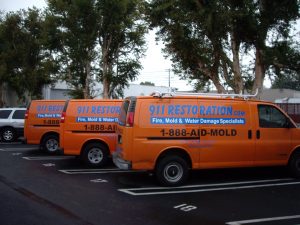 While mold and mildew are perfectly safe when they exist outside, they can pose a threat when they enter into a home or office building. Mold naturally breaks down organic matter. When it grows on indoor surfaces, such as walls, it will start to eat away at the material, weakening the structural integrity of the building.
Additionally, mold is accompanied by a musky odor and ugly brown, green, black, or yellow stains. It can also cause health complications, especially in young kids or the elderly. Some health issues that may arise from a mold infestation include sneezing, wheezing, coughing, upper respiratory infections, and heightened asthma or allergy symptoms.
911 Restoration of Riverside is properly equipped to handle an inside mold infestation. We have the tools and training to thoroughly remove every mold spore from the property, leaving it fresh, safe, and clean.
In addition to our fast and effective services, we always put the customer at the forefront of our attention. Our 'fresh start' approach enables us to provide property owners with the support and sympathy they need during this trying time. We help our customers see the silver lining of the situation.
We recently worked with a local family who was suffering from a mold infestation. The parents were afraid that their children would be negatively impacted by the mold outbreak. 911 Restoration of Riverside got to work right away, and extracted every bit of mold from the house, leaving the family safe and secure.
Additional benefits of hiring us include:
   

A free visual inspection for property owners only

   

A nationwide company that hires locally

   

Same day service

   

Around-the-clock availability

   

And much more!
For Riverside property owners suffering from a mold outbreak, contact 911 Restoration today for swift and sympathetic services.