Mold Removal in Redlands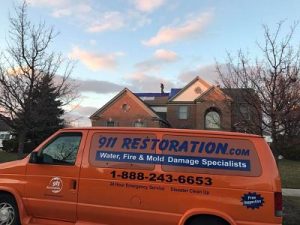 Opening a brand new retail storefront or buying your first home in Redlands can be an exciting venture. As a new residential or commercial property owner, you may feel overjoyed to start this new journey. However, nothing can dull your shine fast enough than finding out that your new building has been flooded. Whether from a flooded basement, pipe burst, or ceiling leak, water inside of your home can cause a myriad of problems, including a mold infestation.
Luckily for you, 911 Restoration of Riverside offers swift and thorough mold removal and water damage restoration services. Our team of licensed, bonded, and insured industry experts are available 24/7/365, and will be at your door within just 45 minutes of your initial phone call.
All About Mold Removal in Redlands
Mold is a type of microorganism that exists naturally outdoors. There are over 100,000 types of mold species worldwide, of which 1,000 reside in the United States. In its natural habitat, mold is actually quite useful. It breaks down organic and decaying matter such as dead leaves and branches. But once it enters into your building, this unwelcomed guest can wreak all kinds of havoc.
Mold will eat away at any surface it grows on. This means that if it is growing inside your home, it will start to breakdown your walls or ceiling, putting your property's structural foundation in jeopardy. Mold is also accompanied by many health complications, including sneezing, wheezing, chest tightness, upper respiratory infections, and heightened asthma symptoms.
There are a few early signs to keep an eye out for if you think you may need mold remediation services. These include:
A Musty Odor – If you notice a fowl or musky odor coming from a particular room, you may have mold.
Discoloration – Notice brown, yellow, black, or green stains forming on your walls or ceiling? It may be a sign of mold.
Flooding – Water from a flood could creep into your walls and become stagnant, creating the ideal breeding ground for mold.
Humidity – When a building has humid conditions, that means that the moisture in the air is high. This can produce excess water and condensation, providing an ample feeding ground for mold spores to thrive in.
Warping – If your drywall or wooden floorboards are warping, moisture (and mold) may be present.
If you notice any of the above signs, it's time to call 911 Restoration of Riverside right away. We have the equipment and experience to safely and swiftly extract all of the mold from your home.
Mold Decontamination Services with a Smile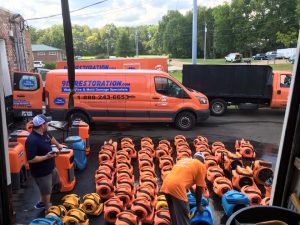 Having your commercial or residential property being in need of flood cleanup or mold inspection services can be an extremely stressful experience. You may be worried about the wellbeing of your family, your residents, customers, and employees, as well as the state of your property.
This is why 911 Restoration of Riverside offers not only speedy mold removal services, but outstanding customer service. Our 'fresh start' approach ensures that you and your needs are always at the center of our attention, no matter how big or small the scope of the mold remediation job might be. Despite this trying time, we want to help show you the silver lining of the situation, and provide a fresh, clean, safe, and mold-free property to call home.
We recently worked with a local family who had a mold outbreak in their flooded basement. 911 Restoration arrived at their property within the hour and went to work straight away. We completely extracted all traces of mold from their home, and provided them with a free visual inspection for property owners only, in addition to amazing support. The family was beyond happy to have a clean, comfortable home once again.
If you are in need of mold removal services, contact 911 Restoration of Riverside today. We are available night or day and will be at your door within 45 minutes to get to work straight away.