Mold Removal in Fontana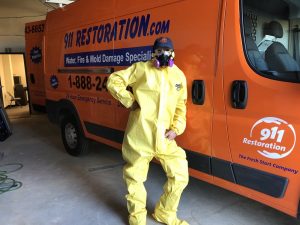 Fontana is the perfect place to plant roots. Whether you're a family who wants to buy a new home to raise their children in or a business owner who is seeking to open another storefront, this bustling Southern California city is full of promise.
However, no matter how joyous purchasing a residential or commercial property may seem, there is a lot of responsibility that accompanies building ownership. This includes paying for the damage that flooding can cause. Whether from a ceiling leak, pipe burst, or flooded basement, a flood cleanup can be costly and lead to a ton of stress.
Thankfully, 911 Restoration of Riverside are your hometown water damage restoration and mold removal service heroes! With a quick 45-minute response time and 24/7/365 availability, we will be at your location within the hour to start mold remediation services right away.
How to Prevent Mold in Your Building
There are many things that you as a property owner can do to protect your home or retail store from needing mold decontamination services. Some steps to take include:
Drying Wet Areas Right Away – Mold cannot grow without moisture, so it is imperative for you to tackle wet surfaces immediately. Seepage into your basement after a storm, accumulation from a leaking pipe, or a spill on your carpet should be dried within 24 to 48 hours to prevent mold from growing.
Get the Right Ventilation to Prevent Moisture – Ensure that a daily activity such as cooking, showering, or running a load of laundry does not invite mold into your home. You can do this by providing the proper ventilation in your laundry room, bathroom, and kitchen.
Direct Water Away from Your Building – If the ground near your residential or commercial property isn't sufficiently sloped away from the foundation, water can collect and seep into your basement, resulting in mold.
Improve Indoor Air Flow – Without efficient air flow inside of your building, excess moisture can create a haven for mold and mildew.
Even if you do take pre-active measures, you can never predict the future. If you have experienced flooding in your home, call the water damage restoration and mold removal experts at 911 Restoration of Riverside today!
Efficient Mold Remediation Services with a Smile in Fontana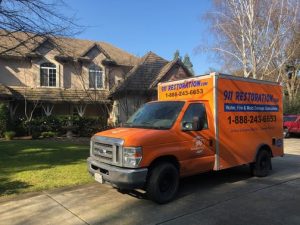 Mold is a type of fungus that is actually helpful when it grows outside. It breaks down organic matter such as tress and leaves. But when mold comes inside, that's when the problems start.
Mold will eat away at any surface it grows on, weakening the structural integrity of your building. It will also cause the inside of your property to smell and leave unsightly brown, yellow, or green stains on your walls or ceiling.
Additionally, mold can cause severe health complications, especially in people with asthma or allergies, including wheezing, coughing, sneezing, and upper chest infections.
That is why it is imperative for the sake of your family, tenants, customers, or employees, to get rid of mold right away. 911 Restoration of Riverside has the equipment and experience to swiftly and safely rid your property of mold, creating a secure, clean environment for all to enjoy.
We also offer amazing customer service. Our 'fresh start' approach guarantees that we put you at the center of our attention. No matter how big or small the task at hand is, we will help you to see the silver lining of your mold problem.
Other benefits of working with us include:
   

A free visual inspection for property owners only

   

A licensed, insured, and bonded team of experts

   

Same day service

   

45-minute response time

   

Caring and supportive people

   

And much more!
If you are a property owner in Fontana who needs immediate mold removal and water damage restoration services, be sure to contact 911 Restoration of Riverside right away. Whether you're located across the street or across the county, we will be at your door within the hour to help you solve your mold mess and quickly get back to your life.