Water Damage Restoration in Riverside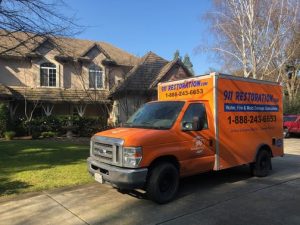 Located about an hour outside of Los Angeles, Riverside is the ideal city to set up shop in. Whether you're a first time homeowner or seeking to open up a new retail store, with its large population and charm, Riverside would make the perfect setting for your new residential or commercial property.
However, with property ownership comes a lot of responsibility. One such item is repairing and restoring the damage if anything happens to your property. If there is one type of disaster that can wreak havoc on any building in any climate or at any elevation, it is flood cleanup damage. Whether from a pipe burst, flooded basement, or storm, flooding can result in major damage to your building. However, 911 Restoration of Riverside has the tools and techniques to provide efficient water damage restoration services when flooding does occur. With 24/7/365 availability and a 45-minute response time, our team will be at your door in no time at all.
Your 411 on Water Damage Restoration in Riverside
 When it comes to a flooding disaster inside of your residential or commercial building, time is always of the essence. Water can start to damage your possessions within mere hours, and the destruction will only get worse as time goes on. If left unattended to, mold will start to grow and flourish within just 48 hours, bringing on a whole new set of problems.
911 Restoration of Riverside uses our experience and equipment to thoroughly extract every droplet of water from your property as soon as possible. Our fast and efficient services mean that you won't have to worry about further damage from occurring. Some of the tools we use include:
Air Movers – These are small yet mighty drying machines that circulate air throughout the area. It helps to dry spaces swiftly.
Dehumidifiers – A dehumidifier removes all moisture completely from the air. This helps with mold removal, as excess moisture in the air can promote the growth of mold and mildew.
Air Scrubbers – These machines clean the air by eliminating the odors and particles that cause them. With water damage restoration, air scrubbers get rid of the musky smells associated with mold.
If flooding happened in your house or office building, it is imperative that you call us as soon as possible. Day or night, we will arrive at your door within just 45 minutes to get to work right away.
Fast Mold Remediation Services When You Need Them the Most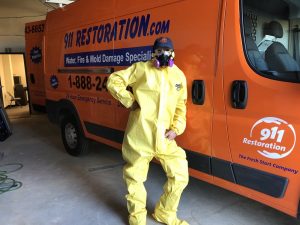 When flooding does happen, sometimes the water can creep into crevices or under the floorboards, becoming stagnant. This creates the perfect environment for mold to grow. If you notice a musty odor or yellow, brown, or green discoloration on your ceiling or walls after a flood, it may be a sign that you need our mold decontamination services.
Do not let a mold infestation go untreated. There are also numerous health risks associated with mold, including:
   

Nasal and sinus congestion

   

Respiratory issues, including wheezing, chest tightness, and       difficulty breathing

   

Sneezing

   

Throat irritation
These issues are more prominent in elderly people and young children, or in people with asthma or allergies.
If you notice any of the aforementioned signs of a mold outbreak, it is best to call us right away. Never attempt to extract the mold yourself because you could only make the problem worse. 911 Restoration of Riverside has the proper equipment to safely and efficiently remove the mold from your building.
Other benefits of partnering with us include:
   

A free visual inspection for property owners only

   

Same-day servicing

   

Professional mold inspection services

   

Leak detection and repair

   

Locally owned and operated

   

And so much more!
Recently, we provided flood restoration services to a local Riverside family. They were experiencing a ceiling leak and were afraid that mold had started growing inside of their home. 911 Restoration of Riverside thoroughly removed all of the water from their home and conducted an inspection of the property. We did find a mold colony growing within the ceiling and within the same day, we were able to get rid of it completely. Our 'fresh start' approach also gave the family complete reassurance and amazing customer support.
If you recently experienced a flood and need water damage restoration services, call 911 Restoration of Riverside immediately. We will be at your door right away to get to work and offer the support and services you need and deserve.