Water Damage Eastvale
911 Restoration Riverside employs one of the best water damage Eastvale teams out there with water damage Eastvale technicians ready to go any time of the year for all forms of water damage.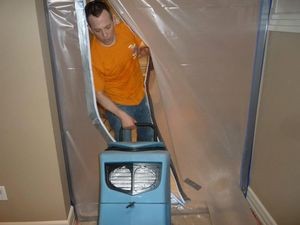 When it comes to peace of mind, they get it to you fast so you don't have to wait on your home's restoration needs.
You need a crew at your side ready to provide you the peace of mind that you deserve.
Call us for care that is available:
Available 24/7/365
Respond within 45 minutes

That is same day service for all emergencies
You get the most qualified team giving you expert care. We are there for the emotional aspect to because your peace of mind depends on it.
You deserve a fresh start as soon as possible, so give our experts with 911 Restoration Riverside a call and let the professionals provide you with one today!
Eastvale Lookout for Water Damage
The water damage Eastvale team at 911 Restoration Riverside urges all residents to be aware of what the signs of unwelcomed water in their home looks like. If any of these symptoms resonate with you then give us a call.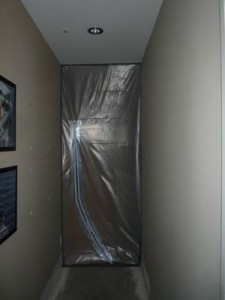 Some important things to remember about water damage restoration services:
This is usually the first sign of infiltrating water as a result of a roof leak. The reason for these occurrences is that the building material is made up of porous organic matter.
When they become soaked they undergo physical changes because of chemical decay. The process is almost never reversible, so they require complete renovation, which we are capable of.
Moreover, the paint on the drywall begins to give way due to expanding humidity. This only leaves the wall further exposed to damages.
If this is allowed to happen long enough, then you may experience other complications like a mold colony.
The characteristics of a mold infestation includes some of above, but also involves funny smells as well. The smell of it is best described as a wet-dirty towel type of odor.
The main cause of it is that when a colony gets big enough it result in a net increase of the volumetric presence of mold spores in the air. '
We breathe spores every day, but when it becomes too high it can give you flue like symptoms. These range from nausea to headaches. When you start to experience those, then you should definitely contact us.
Our crew can handle water damage restoration and mold removal with ease and professionalism so give us a call today!
How We Remove Water Damage
911 Restoration Riverside is an all-in-one team ranging from all sorts of various disaster repair masters. Whether it is fire damage restoration, or sewage backup cleaning. If it involves water, we can fix it.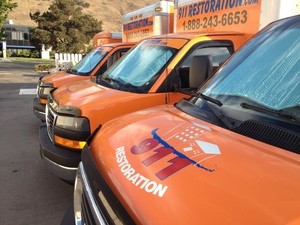 Our water damage Eastvale team is made up of IICRC certified technicians that will make everything better. When it comes to reliable solutions count us to restore your home and fix the underlying cause of the damage. For example, when it comes to roof leaks we know exactly how to take care of it.
We start off with a pass through using our infrared cameras. This is pivotal to ensure that no future problems arise from hidden moisture. The camera works by allowing us to see moisture, so that every effort is used to its fullest potential.
After finding trapped water we get it out using precision techniques such as air tight lines and blowers. Ensuring clean air circulates in allows us to filter out mold spores, so that a colony cannot spread it has formed.
Sometimes things cannot be restored, but in cases like those we are more than capable of repair. This is often the case in roof renovation. Just keep in mind, we leave every space better than we found it.
For the fresh fix you deserve call our water damage Eastvale team with 911 Restoration Riverside and we can start to take care of you and your home today!