Water Damage Restoration in Beaumont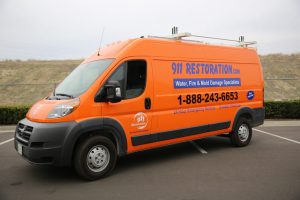 With a total population of 36,877, Beaumont is a picturesque Southern California town to take up residence in. If you're looking to plant roots, buy a home, and start a family, or open your own retail store, Beaumont is the perfect place to do it.
Despite the fact that you may be feeling giddy about your new residential or commercial building, there are a lot of newfound responsibilities that come with property ownership. This includes ensuring that all water is thoroughly extracted and that the damage is repaired in the event of a flood.
Whether from a flooded basement, pipe burst, or ceiling leak, or from a natural disaster, indoor flooding is no joke. Thankfully, 911 Restoration of Riverside offer the professional water damage restoration services that you require. With same-day servicing and a 45-minute response time, our team will be at your doorstep night or day to help repair the damage.
Tips to Keep Flooding at Bay
As a property owner, you need to be proactive. This includes protecting your house or office building against the dangers of flooding. Here are some steps that you can take to avoid water damage:
Thoroughly Clean Your Gutters and Downspouts – You should be cleaning out your property's gutters at least twice a year to avoid blockage from leaves, twigs, and other types of debris. You should also be cleaning your downspouts to allow water to properly flow through.

Maintain the Trees on Your Property – Thriving foliage in your yard can be lovely, but their roots can be hazardous to your pipes. This is why it is critical to minimize landscaping near utility pipes, or remove trees and shrubs if they become too large.

Understand Your Water Main – It's important to know the location of your water main and to shut it off if you leave your property for a long time.

Investigate Leaks Promptly – If you choose to ignore moisture damage, or postpone making the necessary repairs, your property can face far more than just flooding. Mold and mildew thrive in dark, damp areas. Luckily, 911 Restoration of Riverside also offers expert mold removal services too!

Always Check Your Water Pressure – If the water pressure in your commercial or residential property is too high, your hoses and pipes may fail underneath the pressure. Purchase a water pressure gauge at your local hardware store, attach it to your outside faucet, and turn the faucet on full force to read your building's water pressure.
Despite these premeasurements, it is possible to experience flooding inside of your building. Don't wait to call in the experts! 911 Restoration of Riverside will thoroughly and swiftly extract all of the water and moisture from your building, offering you a clean, comfortable, and totally dry environments.
Mold Remediation Services in Beaumont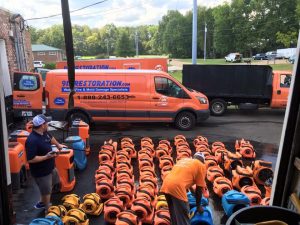 Water damage restoration isn't the only thing your property will need if it suffers from flooding. A mold infestation could accompany the flooding, causing an entirely different issue. You need a company that specializes in flood cleanup and mold decontamination.
Mold, while harmless in its natural environment, can cause a myriad of problems inside of your residential or commercial property. It will eat away at any surface it grows on, weakening the structural foundation of your home or retail building. Additionally, mold and mildew can cause many health complications, especially in young children or seniors, including:
       

Heightened asthma or allergy symptoms

       

Wheezing, coughing, and sneezing

       

Upper respiratory infections

       

Runny eyes or nose
If you have mold within your walls, your family, friends, tenants, employees, or customers will be at risk. It is critical to act on the problem right away and employ a mold inspection company. 911 Restoration of Riverside have the tools and training to swiftly and safely deal with your mold problem.
Not only are we more efficient, but we offer outstanding customer service as well. Our 'fresh start' approach enables us to help you see the silver lining of an otherwise dire situation, and begin a brand new chapter of your life.
If you are in need of water damage restoration or mold removal services, be sure to call the professionals at 911 Restoration of Riverside right away. We look forward to helping you!