Water Damage Restoration in Fontana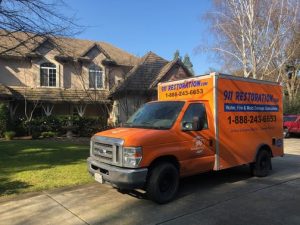 Buying a new home or retail property is an exciting time in your life. You're probably filled with excitement and joy. However, there are numerous responsibilities you'll acquire as a residential or commercial property owner in Fontana. If flooding occurs in your building as the result of a pipe burst, flooded basement, ceiling leak, or natural storm, you must take action immediately. It is imperative to not sit on the issue. Thankfully, 911 Restoration of Riverside will be at your door within just 45 minutes of your first call to us. Whether the flooding happens during the afternoon or in the middle of the night, our team is available 24/7/365 to offer you the best water damage restoration services in the county.
Have Flooding? Call the Water Damage Restoration Experts!
Water damage can affect you at anytime and in any place. Nobody is safe. If your home or office complex has been struck with flooding, it is imperative to take immediate action. Water damage can start taking its toll on your prized possession within hours, warping floorboards and discoloring furniture. Within days, mold and mildew will start to grow, leading to even more problems you have to deal with.
Sometimes, the signs of water damage aren't that obvious. It's important for you to be proactive, and to know the signs of flooding, which may include:
 

Changes to the Floors, Ceiling, or Walls – The early signs of water damage are the bubbling and peeling of your paint or wallpaper. Overtime, they may become swollen and begin to warp. Your carpet will feel wet to the touch, or even soggy and spongy.
Stains – If yellow or brown stains begin to appear in irregular shapes within your basement, bathroom, or laundry room, you may need water damage restoration services, or even mold removal services.
 

Musty Odors – This smell is often similar to wet newspaper and is the strongest around the room where the flooding happened. The room may also feel damp or humid. A musty odor may also be an indication that you have a mold outbreak.
 

Outdated Piping – Pipes are not visible and can be taken for granted. You must get them inspected often to reduce your chances of property flooding.
If you notice any of these symptoms or have old pipes or plumbing fixtures, you need to call 911 Restoration of Riverside right away. Our team has the resources and experience to safety and swiftly extract every drop of water from your commercial or residential property. We are your local flood damage repair experts.
Swift and Efficient Mold Removal Services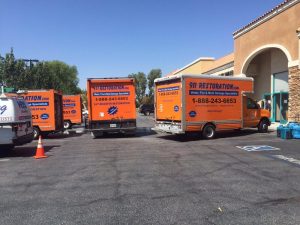 A mold infestation typically goes hand-in-hand with flooding. Mold is a type of bacteria that loves to take up residence in moist environments, and will gladly invite itself into your home or retail store.
Mold can be accompanied with a number of tell-tale symptoms, including unsightly stains, a musky odor, and health issues. Some of the health complications associated with a mold outbreak include:
   

Respiratory infections

   

Coughing, sneezing, or wheezing

   

Chest tightness

   

Heightened asthma and allergy symptoms
If you notice any of these signs, you need to call in a professional mold remediation team right away. If mold is left to grow, it will eat away at your building's surfaces, putting the structural integrity in jeopardy. 911 Restoration of Riverside has the tools and techniques to thoroughly rid your property of mold within the same day that you contact us.
Additional benefits of partnering with 911 Restoration of Riverside include:
   

A free visual inspection for property owners only

   

Leak detection and repair

   

Professional mold inspection and mold decontamination services

   

And much more!
Not only do we offer speedy services to you, we also provide you with sympathetic support. We understand that having a mold infestation or flood can be a difficult time. This is why 911 Restoration offers a 'fresh start' approach to every job that we tackle. This helps you to see that after the water damage restoration is finished, you can enter into a brand new chapter of your life and leave the stress and worry of flood damage and mold removal behind you.
If your property has been afflicted with water damage or mold, contact 911 Restoration of Riverside right away. We offer a 45-minute response time and 24/7/365 availability. Call us today to get the problem taken care of right away.