How to Identify Kitchen Water Damage?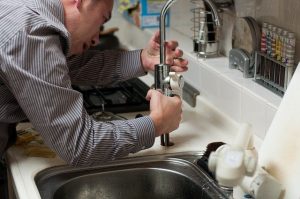 As a homeowner, it's better to be on the lookout for kitchen water damage instead of paying a hefty maintenance fee. That's because severe water damage can lead to musty smells, mold rot, and structural issues in the affected area. Consequently, turning the kitchen into an inhabitable area.
In this article, we teach you how to identify and stop common leaks and plumbing issues before things escalate. We'll also discuss the importance of calling a water damage restoration company to address potential threats and current issues ASAP!
Top Signs of Kitchen Water Damage
Kitchens often become a meeting ground for families. You may spend your time cooking there, grabbing your breakfast/lunch, or using the kitchen counter as a space for work.
Unfortunately, they're the most targeted sites for spills, leaks, and flooded floors. That's mainly because you find several pipes, pipelines, and water-based appliances there, which might cause problems in the future.
Here are some signs of kitchen water damage to watch out for:
Water spots i.e. wet floor and damp walls
Chipped paint on kitchen cabinets
Floors buckling and crackling/bubbling walls
Rusted pipes or appliances that often come into contact with water (like the dishwasher or under sink water filter unit)
Musty odor around the kitchen
Signs of mold growth (i.e. strange smells, dark spots, and discoloration)
Besides this, an unexpected increase in your utility bill can indicate that you have an undetected leak somewhere. Resolving the issue can minimize kitchen water damage.
What Are the Main Causes of Kitchen Water Damage?
There are several different reasons for water damage in the kitchen. They range from pipe leaks, clogged sinks, and malfunctioned appliances to environmental changes. Natural disasters such as thunderstorms and floods can lead to unexpected problems as well.
Here are the ones that have a drastic impact on your home maintenance bills:
Kitchen Sink and Faucets
Kitchen sinks and faucets are common sites for water damage. Water might spill from clogged sinks, improperly installed faucets might begin to leak, and you might have plumbing issues under the sink.
Try to routinely check the pipelines under the sink. Feel the connection points for moisture and look for water puddles in that area. In addition to this, you should inspect the walls and ceiling for water seepage to stop it from causing problems in the kitchen.
Regular maintenance can minimize risks and help you detect the problem quickly.
Dishwasher Leaks
Dishwashers might leak due to excessive wear and tear after frequent usage. Loading your dishes incorrectly, adding extra soap into the dishwasher, or overloading dishes can accelerate deterioration. You might notice an issue when water starts dripping out of its door.
Alternatively, loose connections in the drainpipes, cracks, and gasket failures can lead to leaks. These problems go undetected because the water gets collected under the dishwasher through slow leaks. Subsequently, it damages the flooring and maximizes the risk of mold in dark and damp spaces.
Refrigerator and Water Coolers
Malfunctioning kitchen appliances can be a cause for concern.  Water lines (both copper and plastic) can burst or crack under unexpected pressure. Flooding might even occur if the water tubes break when you pull them out to clean the equipment. Additionally, water lines might crack, freeze, and burst during the wintry season.
You might experience the same issues with your water cooler and ice dispenser. You can place mats underneath to maintain dryness in the affected area. Remember to clean/switch the mat to stop water from collecting under it.
Water Pipes
Your kitchen pipes might freeze and burst during winters, especially when temperatures reach below freezing point. Due to this, your water lines will either burst or weaken at connection joints. In turn, this results in leaks and causes flood water that can submerge the floor and distort under the sink cabinet due to overexposure.
Sometimes you notice these leaks right away. Other times, you might ignore minor water hazards. These include water exposure from simmering pots and pans, spills, and splashes that occur when you're cooking or serving food. It's important to consider these smaller incidents to prevent your kitchen cabinets, countertops, and other wooden fixtures from getting damaged.
911 Restoration of Riverside County to the Rescue
The good news is that you can turn things around by booking a consultation with a water damage restoration company (like ours) for assessment and recovery.  Knowing that something's wrong can help you call emergency experts before your maintenance problems worsen.
Once you get in touch, we shall create customized water restoration plans for your kitchen. Our services include everything from free non-obligatory inspection, water removal, cleanup, and sanitation. After this, we address kitchen water damage repairs like leaks, burst pipes, etc.
Parting Words
Identifying kitchen water damage is the first of many steps towards recovery. We strongly advise you to create a checklist and survey your kitchen once or twice a week. That way, you can address the issues in time.
Call (951) 228 4583 for emergency water restoration services today!