How to Safely Remove Snow from Roof to Avoid Water Damage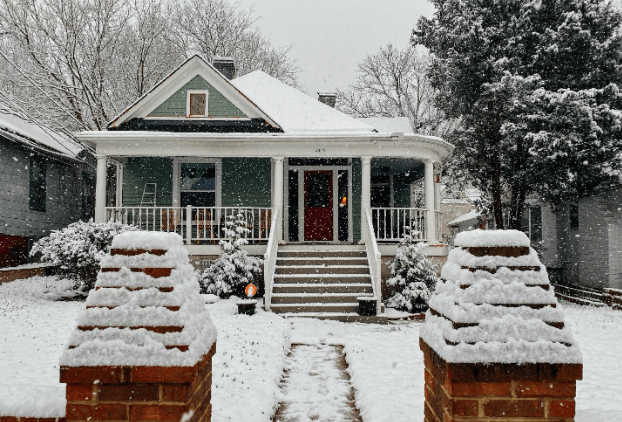 People living in the US are no stranger to snow-related
 water damage. The problem is common enough for most home insurance policies to include winter storm coverage to protect people against the worst outcomes. 
To put things in perspective, 62% of homeowners in the US were still reeling from the snow-related water damage when winter set in in 2021. Needless to say, things can get complicated. Hence, removing snow from the roof needs to be a primary consideration for you.
How Does Snow Cause Water Damage?
This question has a relatively simple answer. Snow-covered roofs look pretty and picturesque, but that snow melts and turns into water. The problem isn't that simple, though. Water alone would flow down to the gutters and be led away from the roof; however, the slow melting snow keeps most escape routes closed off. 
Therefore, the melted parts escape through minor cracks or crevices in the roof and travel down into the walls. You'll need our water damage restoration if it gets to this point. 
Guide to Removing Snow from Roof
Most homeowners want to avoid house damage, and the best way to accomplish that is by removing snow from the roof before it causes problems. Therefore, the following is a brief guide to help you accomplish this task quickly and safely.
Firstly, you'll need to accumulate all the tools you'll need to remove snow from the roof because going back and forth for tools will complicate the process. Following are some tools that will help you get the job done:
Snow Rake

– for scraping off snow and breaking off icicles that might be blocking the gutters

Push Broom

– softly push snow or ice particles towards the gutters and clear the roof.

Snow Brush

– a small brush to target the snow trapped in crevices and push it out.

Ice Scraper

– to break through sheets of ice and make it easier to get pushed down to the gutters.
You should also wear boots that will offer you the proper support and gloves to protect your hands and fingers from the cold.
Removing snow from a roof is a two-person job, at least. You need one person on the roof, scraping away at the ice and snow while the other remains downstairs on standby. The second person's job is to keep the ladder stable and hold some of the tools.
It isn't feasible for the person on the roof to hold on to bigger tools after using them because they can get in the way and cause injuries. Hence, the second person can take care of these tools after their work is finished.
The two-people team is also ideal because it helps in case of accidents. Snow is slippery, and the cleaning process is risky, which is why we generally recommend that you call 911 Restoration of Riverside County for professional restoration services.
However, if you're doing it on your own and face an accident, the person on standby can take the necessary steps to get you down to safety.
Push the Snow into the Gutters
Do not throw snow off the roof because you likely can't see if there's anyone downstairs. The best solution is to push it into gutters slowly and let it move downstairs from there. You'll need to ensure that gutters aren't blocked by ice for this process to be successful, so don't keep that task towards the end.
Following these instructions will help you safely remove snow from your roof, thus, preventing water damage.
Why Water Damage Is Dangerous
There are several reasons why water damage is dangerous for your house or commercial property.
Mold growth is one of the most common consequences of water damage, and it becomes a significant issue in its own right. Untreated mold growth can grow into an infestation, affecting several parts of the house and spreading infections.
Mold infestations are especially hazardous if someone living in the house has mold allergies or is immunocompromised. We provide mold removal services, so you will always have a solution available; however, it is best if the problem doesn't reach this state.
Structural damage is one of the worst unseen consequences of water damage and the most dangerous ones. Water seeping into walls and mold growth reacts with the materials used for construction, weakening them.
This damage isn't always easy to notice and only becomes apparent after the damage has already slipped to dangerous levels.
You likely know how bad stagnant water smells, so you have an idea of the kind of odor water damage releases. The smell is a combination of the moisture, the odd reactions it is facilitating inside the house, and mold growth.
The stench is also one of the primary symptoms of water damage, so contact 911 Restoration of Riverside County if you feel a consistently bad odor inside the house.
Higher Risk of Infections
Air moisture and mold growth give rise to bacteria and similar infection-causing pathogens. It is also why you or other people in the house might fall sicker than you are accustomed to if the winter snow has caused water to seep inside. 
Prioritize water damage restoration and keep your home safe.
Wrapping Up
We hope you found this blog post informative and will use the learning for removing snow from the roof. You can also call 911 Restoration of Riverside County at (951) 228 4583 for professional services and water damage restoration. 911 Restoration of Riverside County is a licensed, insured, and bonded business that you can trust. 
These IICRC-certified professionals will use their expertise and tools to ensure your belongings are salvaged to their pre-damage condition. They will also work with your insurance provider to ensure you receive the coverage for the damage. 911 Restoration of Riverside County is ready to be of service round the clock, 24/7, all year round. So, if you are affected by water damage in the aftermath of heavy snowfall or a snowstorm, call now.